Japanese Curry Bowl: A Savory Symphony of Flavors
This savory, delicious Japanese curry bowl is the perfect weeknight dinner- tender vegetables with your protein of choice in a rich, comforting sauce.
Nothing quite compares to the magical world of a Japanese curry bowl when it comes to enjoying a comforting dish that dances on your taste buds with all the flavor. 
This bowl of deliciousness seamlessly weaves together the intricate tapestry of Japanese cuisine, combining the heartiness of rice, the depth of curry, and an ensemble of ingredients to craft a truly amazing and comforting meal.
We love to make this Japanese style curry bowl because it's not only easy to make on a busy weeknight, but it's so satisfying. Plus, it's versatile and can be made with whatever protein you like, with whatever vegetables you have in your refrigerator.
In this article, we will explore Japanese curry bowls, unveil a tantalizing vegetable and tofu curry bowl recipe, and address some common questions that arise when savoring this delectable dish.
Unraveling the Essence of Japanese Curry
Japanese curry is an esteemed culinary delight that has captivated palates across the globe. In Japan, where it had undergone a transformation to suit the tastes of the Japanese, curry was rooted in its South Asian origins, in particular in India.
A blend of spices and herbs are the essence of this wonderful dish, which creates a beautifully aromatic and satisfying sauce. Japanese curry is composed of an array of ingredients: tender meats, succulent seafoods, vibrant vegetables and legumes.
Curry was first introduced to Japan during the mid 1800s when India was under British colonial rule. The British Royal Navy brought curry powder to Japan during this time but it wasn't until the early 20th century that curry became popular in Japan.
Crafting a Japanese Curry Bowl
The Japanese curry bowl, affectionately known as "kare raisu" in Japan, stands as a modern-day embodiment of culinary innovation and convenience.
The foundation of the bowl consists of impeccably steamed rice or nourishing grains, crowned with a generous serving of exquisitely crafted Japanese curry and a selection of accompaniments.
The beauty of the Japanese curry bowl lies in its adaptability, enabling customization to cater to individual preferences. It is delicious when made with pork, steak, chicken or seafood. Vegetarian? No problem, use tofu or tempeh with vegetables.
Japanese Curry Bowl Recipe
Ingredients:
1 cup steamed rice (white or brown)
1.5 lb protein (block of tofu, chicken thigh, steak, pork, etc.)
1 cup mixed vegetables (carrots, potatoes, peas)
1 onion, finely sliced
3 cloves garlic, minced
1 box of Golden Curry or:

2 tablespoons Japanese curry roux
1 teaspoon soy sauce
1 teaspoon mirin (Japanese sweet rice wine)

1 teaspoon vegetable oil
2 cups vegetable broth
Salt and pepper to taste
Pickled ginger for serving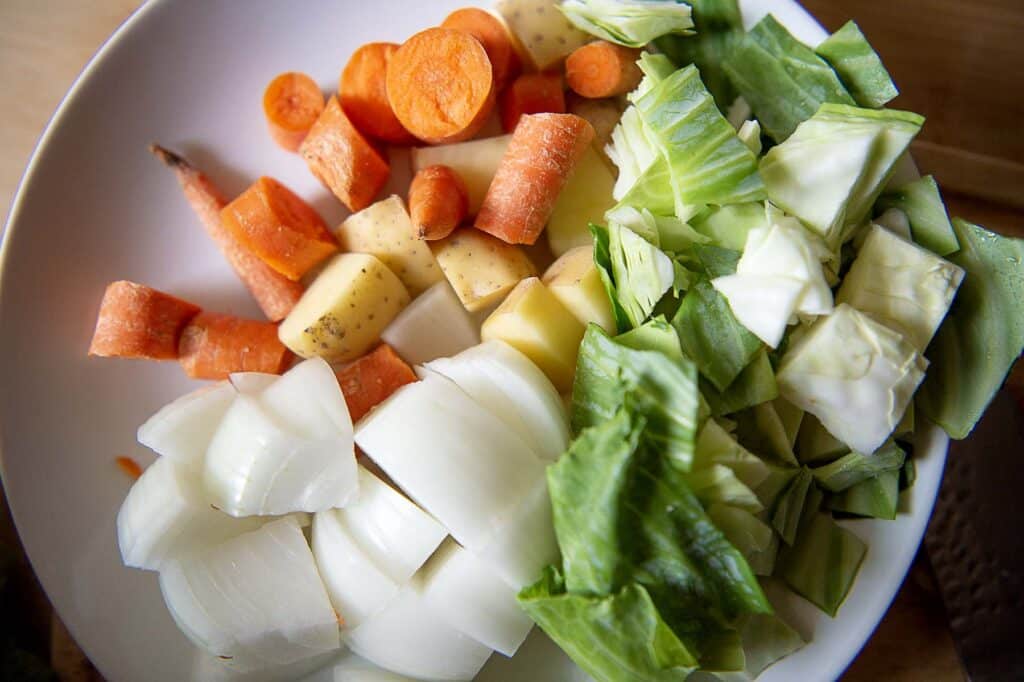 Instructions:
Heat vegetable oil in a pan over medium heat.
Add sliced onions and minced garlic, sauté until translucent and fragrant.
Incorporate the protein and mixed vegetables, allowing them to lightly brown.
Sprinkle Japanese curry roux over the mixture and stir until it forms a fragrant paste.
Pour in vegetable broth, soy sauce, and mirin. Stir well to dissolve the roux and create a luscious curry sauce.
Let the curry simmer for 15-20 minutes, or until the vegetables are tender and the flavors have melded.
Season with salt and pepper to taste.

To assemble the Japanese curry bowl, place a serving of steamed rice in a bowl, ladle the aromatic curry over it, and garnish with fresh parsley.
Serve with a side of pickled ginger for an authentic touch of Japanese flavor.
Can Japanese Curry Powder Be Consumed Raw?
Japanese Curry powder is not to be eaten raw since it's a mixture of finely ground spices. It may give rise to an overwhelming and unpleasant taste sensation when eaten raw.
Is Japanese Curry Likely to Cause Bloating?
Similar to any spice blend, Japanese curry has the potential to cause bloating in sensitive individuals, depending on their spice tolerance. It is advisable to exercise moderation and attune yourself to your body's signals to ensure a comfortable dining experience.
Is It Safe to Store Japanese Curry Overnight?
Leaving Japanese curry out overnight is not recommended, as perishable foods like curry can become a breeding ground for harmful bacteria when exposed to room temperature for prolonged periods. Safeguard the freshness and integrity of leftover Japanese curry by promptly refrigerating it within two hours of preparation.
Embracing Japanese Curry Bowls
A Japanese curry bowl orchestrates a symphony of flavors that resonate deeply with anyone and any palette. With its medley of ingredients and tantalizing harmony of tastes, epitomized in dishes like the vegetable and tofu Japanese curry bowl, this culinary masterpiece promises to satiate cravings and nourish the soul.
Curry Bowl
This savory, delicious Japanese curry is the perfect weeknight dinner- tender vegetables with your protein of choice in a rich, comforting sauce.
Ingredients
2

medium carrots, cut into 1 inch pieces

2

medium potatoes, cut into 1 inch pieces

1

large white onion, chopped

3

garlic cloves, thinly sliced

2

tbsp

butter

4

cups

water

1

box

Golden Curry

1½

lb

protein of choice, cut into 1 inch pieces

(chicken thighs, pork shoulder, steak, tofu, etc.)
Recipe Instructions
If using a protein, heat one tbsp butter in a Dutch oven or large pot over medium high heat. Add protein and brown on all sides. Remove from the pot.

Add another tbsp of butter and add the carrots, onion, and potato. Cook down until soft for about 5 minutes. Add garlic and cook for 1 minute until fragrant. Add protein back in.

Pour in roughly 4 cups of water, or enough to cover the ingredients. Bring to a boil and add in your Golden Curry cubes, stirring to dissolve.

Reduce heat and simmer for 15 – 20 minutes, until reduced slightly. You may need to add a little more water, depending on how much broth you want.

Remove from heat. Serve over white rice and enjoy.
Nutrition
Calories:
3
kcal
Carbohydrates:
0.2
g
Protein:
0.2
g
Fat:
0.2
g
Saturated Fat:
0.1
g
Polyunsaturated Fat:
0.01
g
Monounsaturated Fat:
0.04
g
Cholesterol:
1
mg
Sodium:
13
mg
Potassium:
7
mg
Sugar:
0.2
g
Vitamin A:
8
IU
Calcium:
10
mg
Iron:
0.002
mg
Share on Facebook
Tried this recipe?
Mention @thembitesrecipes or tag #thembites