Dried Mexican chilies give this delicious red enchilada sauce recipe its vibrant color and bold flavor, making it perfect for making your favorite enchiladas.
Table of Contents
This enchilada sauce recipe will have you never reaching for the jarred stuff ever again.
A store bought enchilada sauce is convenient and is great.
Once I realized how easy it is to make homemade enchilada sauce and how much tastier it is- there was no going back. Make this delicious sauce to go with our Chicken Enchiladas!
What is enchilada sauce
Enchilada sauce is a blended sauce consisting of dried chile peppers and water. There are lots of ways to make it but a red enchilada sauce always starts from chiles and water and adds different seasonings from there.
More non-traditional variations make a roux-based sauce. Some form of fat, flour, tomato paste, and broth come together with seasonings to form a red sauce. Personally, dried chiles are bursting with rich flavor (and not that spicy) and I think they make the best enchilada sauce.
There is also green enchilada sauce which I make from tomatillos. This blog post will be all about the red sauce.
How to make homemade enchilada sauce
Wow all your friends and family by making this super easy enchilada sauce.
First let's talk dried chile peppers. If you are not a fan of spicy, don't let these big bad dried chiles scare you off- they're not very spicy. Once blended and cooked, there's hardly any spice and instead just a beautiful deep flavor.
We use guajillo and ancho chile peppers, two very common varieties in Mexican cooking. You should easily be able to buy these in any major supermarket.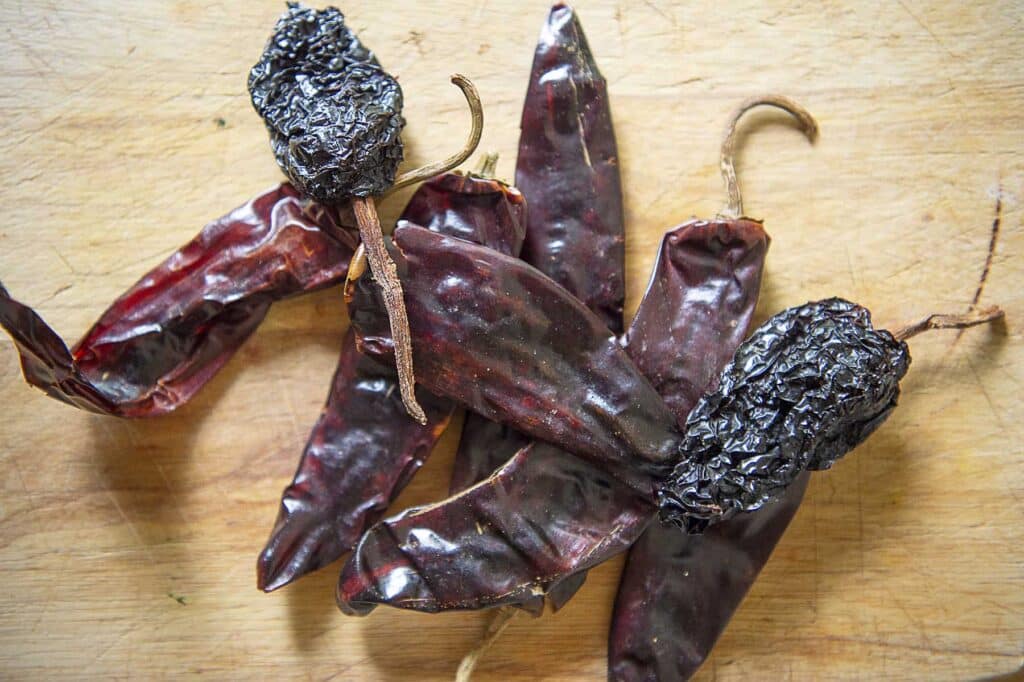 Guajillo is commonly made in sauces, salsas, marinades, and spice rubs. It's known for its very pronounced, rich flavor and it's really not spicy.
Ancho chiles are also mild in spice level and sweet. Anchos are the dried version of the green poblano pepper. Poblanos are harvested before ripening (hence why they're green), but when they ripen they turn red in color and sweet and mild in taste.
The first step is to prep the peppers by cutting the stem and top off and dumping the seeds out. There are a lot of seeds, so if you miss a couple that's fine too.
Next, slightly roast the peppers in a hot skillet. This brings out the flavor of the pepper.
After a couple of minutes, remove the peppers from the skillet and place into a bowl. Pour boiling water over the peppers, just enough to cover them and let them sit for about 15 minutes. This is important because it helps them soften and get ready to be blended nice and smooth.
Drain the peppers and throw them in a blender with roughly ½ cup of water and all the other ingredients- garlic, cumin, salt and pepper, tomato, and oregano.
Plenty of Mexican red enchilada sauce recipes don't include tomato. We like to put a little bit of fresh tomato in because the acidity and sweetness balances nicely with the peppers. Give the sauce a taste and adjust the seasoning if needed.
How long does it last in the fridge
In a sealed container enchilada sauce can last in the fridge for up to 5 days. It also freezes well and can be frozen for up to two months.
Enchilada Sauce
Dried Mexican chilies give this delicious red enchilada sauce its vibrant color and bold flavor, making it perfect for making your favorite enchiladas.
Equipment
Blender

fine mesh strainer
Ingredients
4

guajillo peppers

4

ancho peppers

1

medium tomato

2

garlic cloves

1

tsp

cumin

½

tsp

oregano

salt and pepper to taste
Recipe Instructions
First let's prep the peppers. Cut the stem top off and dump out the seeds.

Roast the peppers in a hot pan, pressing them flat with a spatula. Be careful not to burn them. It will only take a minute or so. Remove from heat and place in a bowl.

Add a few cups of water to a pot and bring to a boil. Once boiling, carefully pour the water over the peppers, adding just enough liquid to cover them. Let soften for 15 minutes.

Drain the peppers, saving roughly 1/2 cup of the water, and place in blender.

Add garlic cloves, cumin, oregano, tomato, salt, pepper, and 1/2 cup of water. Blend until smooth. Taste and add salt and pepper as needed.

Place in a sealed container and refrigerate for up to 5 days or freeze for a month.
Nutrition
Calories:
518
kcal
Carbohydrates:
111
g
Protein:
17
g
Fat:
9
g
Saturated Fat:
1
g
Polyunsaturated Fat:
5
g
Monounsaturated Fat:
1
g
Sodium:
145
mg
Potassium:
2952
mg
Fiber:
45
g
Sugar:
63
g
Vitamin A:
40834
IU
Vitamin C:
50
mg
Calcium:
115
mg
Iron:
11
mg
Share on Facebook
Share by Email
Share on Twitter
Tried this recipe?
Mention @thembitesrecipes or tag #thembites