Mastering the Art of Making Perfectly Cooked Eggs Over Hard Every Time
Introduction:
Eggs are a versatile and nutritious ingredient that can be prepared in countless ways. Among the various ways to cook eggs, one popular method is making this recipe. This method results in fully cooked yolks, offering a different texture and flavor compared to over easy or sunny-side up. If you've ever struggled to achieve the perfect balance between a fully cooked yolk and tender whites, fret not! In this article, we will guide you through a step-by-step process to make eggs over hard with a perfectly cooked yolk every time.
Eggs Over Hard Ingredients
To make these, you will need the following ingredients:
½ tbsp butter (or neutral oil)
2 eggs
Salt and pepper to taste
Step 1: Preparing the Pan
Step 1: Getting Ready

To ensure the eggs cook evenly without sticking, start by selecting a non-stick pan or a well-seasoned cast iron skillet. Place the pan on the stovetop over medium-low heat. Add the butter (or neutral oil) to the pan and allow it to heat until it begins to foam. The foaming indicates that the pan is at the right temperature for cooking the eggs.
Step 2: Crack the Eggs
Once the butter is foaming, it's time to crack the eggs. Carefully crack each egg into a small bowl or ramekin. This step helps you avoid shell fragments from accidentally falling into the pan. By cracking them separately, you also have better control over the yolks.
Step 3: Seasoning
Sprinkle a pinch of salt and pepper lightly over the eggs. The seasoning enhances the flavors and adds a delightful touch. Remember that a little salt and pepper go a long way, so be mindful of the amount you use.
Step 4: Cooking the Eggs
Gently slide the cracked eggs into the preheated pan, making sure to keep some space between them. The lower heat helps to cook them more evenly. Allow them to cook for approximately 2 to 3 minutes or until the whites are set, but the yolks are still runny. Keep a close eye on them during this process to prevent overcooking.
Step 5: The Flip
Once the whites are set, it's time to flip the eggs. Carefully slide a spatula underneath each egg, ensuring you get underneath the whites and yolk. Flip the eggs over in one swift motion to avoid breaking the yolks. Now, the yolks should be facing down, and the whites on top.
Step 6: Cooking the Other Side
Cook the eggs for an additional 2 minutes after flipping them. This step ensures that the yolks are fully cooked and no longer runny. The residual heat from the pan will continue to cook the eggs, so be cautious not to overcook them.
Step 7: Remove and Enjoy
Once they are fully cooked, remove them from the pan using a spatula and transfer them to a plate. Take a moment to appreciate the golden brown exterior and perfectly cooked yolks. These are delicious on their own, but you can also enjoy them with a side of toast, bacon, or a refreshing salad.
What Does Eggs Over Hard Mean?
Eggs over hard refers to a cooking method where the eggs are fried on both sides until the yolk is fully cooked and solid. It is a way of preparing eggs that eliminates any runny yolk.
Can You Beat Eggs Too Much?
Yes, you can beat eggs too much. Overbeating eggs can result in a dense and tough texture. It's best to beat eggs just until the whites and yolks are combined for most recipes.
Are Over Hard Eggs Good For You?
Over hard eggs can be part of a balanced diet, as they provide a good source of protein and essential nutrients. However, the healthiness of the overall meal will depend on other ingredients used in cooking and the overall dietary context.
Are Eggs Over Hard Healthy?
Eggs over hard can be considered healthy when consumed as part of a balanced diet. They are a good source of protein, vitamins, and minerals. However, it's important to consider other factors such as portion size, cooking methods, and overall dietary choices.
Are Eggs Hard On Your Stomach?
Some individuals may find that consuming eggs, especially when eaten in large quantities or improperly cooked, can lead to stomach discomfort or digestive issues. However, eggs do not generally cause stomach problems for most people when consumed in moderation and cooked properly.


Tips for Success:
Temperature Control: Cooking eggs over hard requires gentle heat. Ensure that the pan is heated over medium-low heat to avoid burning the butter and to cook evenly.
Use a Non-Stick Pan: Using a non-stick pan or a well-seasoned cast iron skillet will prevent from sticking and make flipping easier.
Avoid Overcooking: Keep a close eye to make sure you prevent overcooking. The yolks should be fully cooked, but still tender and not dry.
Experiment with Seasonings: While salt and pepper are traditional seasonings, feel free to experiment with other herbs and spices to add more depth of flavor.
By following these step-by-step instructions, you can easily master the art of making perfectly cooked eggs over hard with a delightful, fully cooked yolk.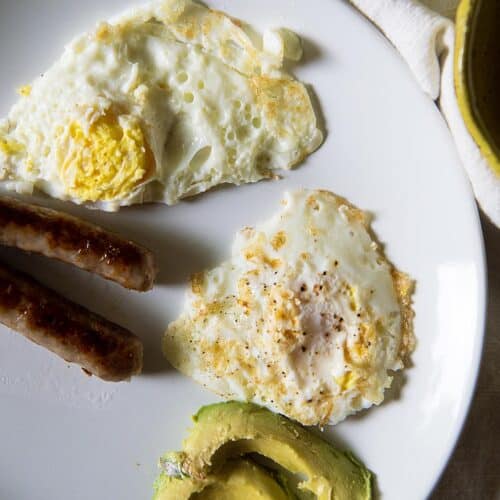 Eggs over Hard
Make eggs over hard with a perfectly cooked yolk every time with these step-by-step instructions.
Ingredients
½

tsp

butter (or oil)

2

eggs
Recipe Instructions
In a non-stick pan or cast iron skillet, heat butter over medium low heat until butter begins to foam.

Add the eggs and sprinkle lightly with salt and pepper. Cook for 2 – 3 minutes until whites are set but yolk is still runny. Flip and cook for 2 more minutes until the yolk is fully cooked.

Remove from the pan and enjoy.
Nutrition
Calories:
117
kcal
Carbohydrates:
10
g
Protein:
4
g
Fat:
7
g
Saturated Fat:
1
g
Polyunsaturated Fat:
6
g
Monounsaturated Fat:
1
g
Trans Fat:
0.03
g
Sodium:
4
mg
Potassium:
98
mg
Fiber:
8
g
Vitamin A:
13
IU
Vitamin C:
0.4
mg
Calcium:
151
mg
Iron:
2
mg
Share on Facebook
Tried this recipe?
Mention @thembitesrecipes or tag #thembites