Chicken Bouillon Powder Recipe
Flavorful, savory, easy to make, and lasts for months, this vegetarian homemade chicken bouillon powder recipe will become the go-to seasoning in your pantry.
Table of Contents
This naturally vegetarian bouillon seasoning tastes like it has chicken in it, but in fact comes together quickly from seasonings you probably already have in your pantry.
Chicken bullion powder is great for creating a broth.
Sprinkle it into gravy, mix some into a pot of rice, flavor stews, season potatoes- the possibilities are endless.
What is chicken bouillon powder recipe?
Made from dehydrated chicken stock, vegetables, salt, fat, and chicken bouillon seasoning.
The most common ways that you will find chicken bouillon are:
Liquids
Pastes
Powders
Granules
Cubes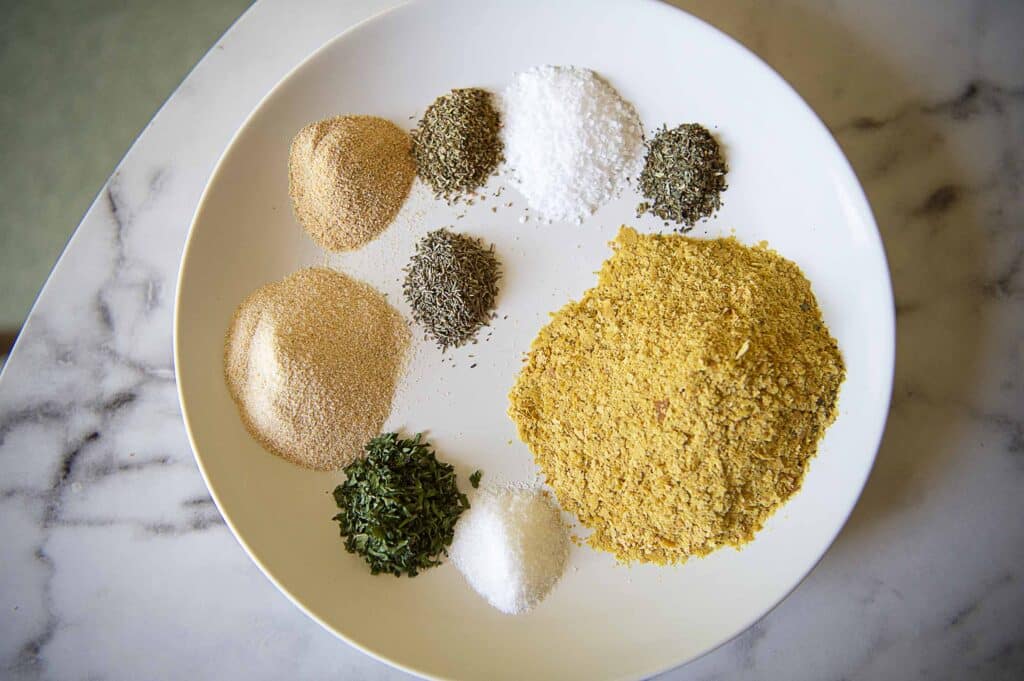 Chicken Bouillon Powder Recipe Ingredients
Nutritional yeast
This flaky, funky, savory ingredient is common in vegan cooking.
Nutritional yeast consists of deactivated yeast and contains protein, vitamins, antioxidants, and minerals.
Nutritional yeast, also called "nooch," is often a staple to make sauces, dips, and more taste cheesy and savory.
In this bouillon powder, nutritional yeast gives it flavor and texture.
Salt
This is another essential ingredient in powdered chicken bouillon. For this recipe I use kosher salt and recommend you do the same. Kosher salt has a better taste than iodized salt.
Dried herbs
Onion and garlic powder are put together with a bunch of dried herbs: parsley, basil, oregano, and thyme.
These will add a lot of flavor and help give it that familiar chicken taste.
History of the Bouillon Cube
Before there was bouillon there was portable soup. This was also a precursor to meat extract, and consists of a dehydrated broth and meat glaze.
This was well known to soldiers, as well as explorers and seamen, and said to keep up to a year and widely considered a meal that was nutritious as well as filling.
This meal was written about by Sir Hughe Play who referred to the paste as "gelly". In his recipe he wrote to boil the feet or legs of beef cattle long enough to make a good broth, and then to strain it, and boil it down more, until it made a "gelly".
Plat also wrote about how this could be turned into various other foods, by flour, or making it stiffer with the addition of isinglass.
He primary interest in this as the base for a soup, or as a concentrated food.
Who first Mass Produced bouillon?
In terms of a product made in mass, the credit goes to Mrs Dubois.
They won a contract to manufacture if for the Royal Navy, along with William Cookworthy.
It's also said that Lewis and Clark carried portable soup on their expedition to Louisiana during the Louisiana Purchase.
This is known due to a letter he sent from Fredericktown Ohio, in which he mentioned purchasing the soup from Francois Baillet, who was a cook in Philadelphia.
It appears that he paid $289.50 for 193 pounds of the dried soup.
Portable soup took a hit whenever the physical Dilbert Blane released a study on the health of the British Navy from 1779 to 1814, in which he said that their health was lacking.
Once this happened canned meats, as well as meat extract gained in popularity.
This is just a thought, but in an odd way, it sounds like this might have been how MRE's came about?
When Things Kicked Off
In 17th Century England there were tablets that consisted of dehydrated meat stock, as was cataloged by the English food write Anne Blencowe(food blogs were even cool then lol).
In a classic French fashion, quite a few chefs of the 19th Century tried to patent bouillon cubes, and tables, but luckily they were turned down due to a lack of originality.
They just couldn't be happy with already owning all of the Mother sauces.
The French inventor of food preservation(Nicolas Appert) also tried to patent a dehydrated bouillon in 1831. This is mainly used as a way to preserve soups, however Appert also preserved fruits, vegetables, juices, dairy products, marmalades, jellies, and syrups.
What Is This Used For?
Seeing as how this is mainly for soup, one could imagine that portable soup was a hot commodity during these times, and this is known as pocket soup, or veal glew.
This is known as to be the cousin of glace de viande, which is translated as: meat glaze.
So when you think of bouillon, just know that its predecessor is meat glaze.
I could see this being great on Garlic Butter Steaks, or a great start for a Keto Chicken Or Turkey Pot Pie!
Known as the father of Food Science, Appert was a confectioner, who basically figured out you could conserve food in containers.
The man was the first embodiment of knowing how amazing Tupperware is.
Is this where we start a petition to get the name of Tupperware changed to Appertware? Let's jump on this! (Please note that this is sarcasm)
Was there anyone else in the dehydrated food game?
Another player in the dehydrated meat/glaze game: French chef/restaurateur known by the name of Georges Auguste Escoffier.
A culinary writer who also updated French cooking methods, who based his work off of Marie-Antoine Carême, and became known for modernizing food off of her ornate style.
Also well known for making the five Mother sauces codified, which is a shorthand way of saying: readable.
He also used his military background to bring order and systems to kitchens, and many restaurants still run off of this standard today.
Take this , and fast forward a bit, bouillon cubes happened to be industrialized by the company Maggi in 1908, and by Knorr in 1912.
It's genuinely kind of wild to think that the company Knorr (who makes easy to cook pastas), was around in that time period.
How To Make Chicken Bouillon
If you're looking to make chicken bouillon powder, simply add the following to a blender and blend:
1 cup nutritional yeast,
¼ cup kosher salt
2 tbsp onion powder
1 tbsp garlic powder
1 tbsp MSG (optional)
1 tbsp dried parsley
1 tbsp dried thyme
1 tbsp dried oregano
1 tbsp dried basil
How to make chicken broth from bouillon
In order to make a chicken broth from bouillon you will want to take your desired form of bouillon and add it to heated water that is at a rolling boil.
After this is finished, add other seasonings to taste in order to make chicken bouillon seasoning.
The ratio I use to make chicken broth using this chicken bouillon seasoning recipe is roughly 1 tsp of powder to 1 cup of boiling water.
How to make chicken bouillon cubes
In order to make chicken bouillon cubes, you'll first need to make chicken stock.
Make sure to keep all of the fat from the chicken/bones that you use to make the stock, and then begin to simmer the stock down to the point that you get a sauce that's almost like a syrup.
Once this liquid has reduced to that point, pour it into a lined metal container/pan, and place it into your refrigerator overnight.
When you wake up in the morning you will have a beautifully congealed rectangle of delicious chicken bouillon cubes.
You can use this method to make bouillon with any protein of your choice. The most common ones are beef, chicken, and pork. I've never really tried this with any sort of fish, so I can't speak on if that would work or not.
Is there a healthy bouillon?
The best way to go about having a healthy alternative to bouillon is to make your own stock. This is something that is super simple to do, and a great way to make use of scraps.
We like to save the remnants of any vegetable or animal carcass in gallon size freezer bags, and then add those to a pot with herbs like ginger, cilantro, maybe some anise and garlic along with a healthy dose of salt, and then bring that to a boil.
Let this go for however long you like, but keep in mind that the longer it goes, the deeper the flavor will get.
Once you get to a point you like, simply strain it off, and let the liquid cool. Now you have your own stock/broth!
What is the difference between chicken broth and chicken bouillon?
They are both essentially trying to fill the same role, however, chicken bouillon is on steroids, while broth is just lifting weights like a normal person.
What is the difference between chicken broth and chicken bouillon?
This is a highly condensed/concentrated version of chicken broth. They are both essentially trying to fill the same role, however, chicken bouillon is on steroids, while broth is just lifting weights like a normal person.
Can you drink chicken bouillon?

Not really…however, you could add it to water, and dilute it to the point that you could drink it, but I would suggest sipping on broth instead.

How do you make dehydrated bouillon?
Our chicken bouillon powder recipe would be how you go about that.
How to use chicken bouillon
Add an abundance of flavor to various dishes like:
Soups
Gravies
Sauces
Stews
Substitute for broths and stocks also
How long does chicken bouillon powder last
This homemade bouillon powder lasts up to a year. Store in an airtight container and in a cool dry place. You don't need to store this in a fridge.
Chicken Bouillon Powder Recipe
Flavorful, savory, easy to make, and lasts for months, this vegetarian homemade chicken bouillon powder recipe will become the go-to seasoning in your pantry.
Ingredients
1

cup

nutritional yeast

¼

cup

kosher salt

2

tbsp

onion powder

1

tbsp

garlic powder

1

tbsp

MSG

(optional)

1

tbsp

dried parsley

1

tbsp

dried thyme

1

tbsp

dried oregano

1

tbsp

dried basil
Recipe Instructions
Place all the ingredients together in a blender. Blend until combined into a powder. Store in an airtight container for up to a year.
Nutrition
Calories:
17
kcal
Carbohydrates:
3
g
Protein:
2
g
Fat:
0.2
g
Saturated Fat:
0.02
g
Polyunsaturated Fat:
0.01
g
Monounsaturated Fat:
0.01
g
Sodium:
1770
mg
Potassium:
82
mg
Fiber:
1
g
Sugar:
0.1
g
Vitamin A:
14
IU
Vitamin C:
0.5
mg
Calcium:
17
mg
Iron:
1
mg
Share on Facebook
Tried this recipe?
Mention @thembitesrecipes or tag #thembites