This Asian-inspired sweet soy glaze recipe is tangy, sweet, savory and perfect for wings, pork, seafood, chicken, fried tofu and more.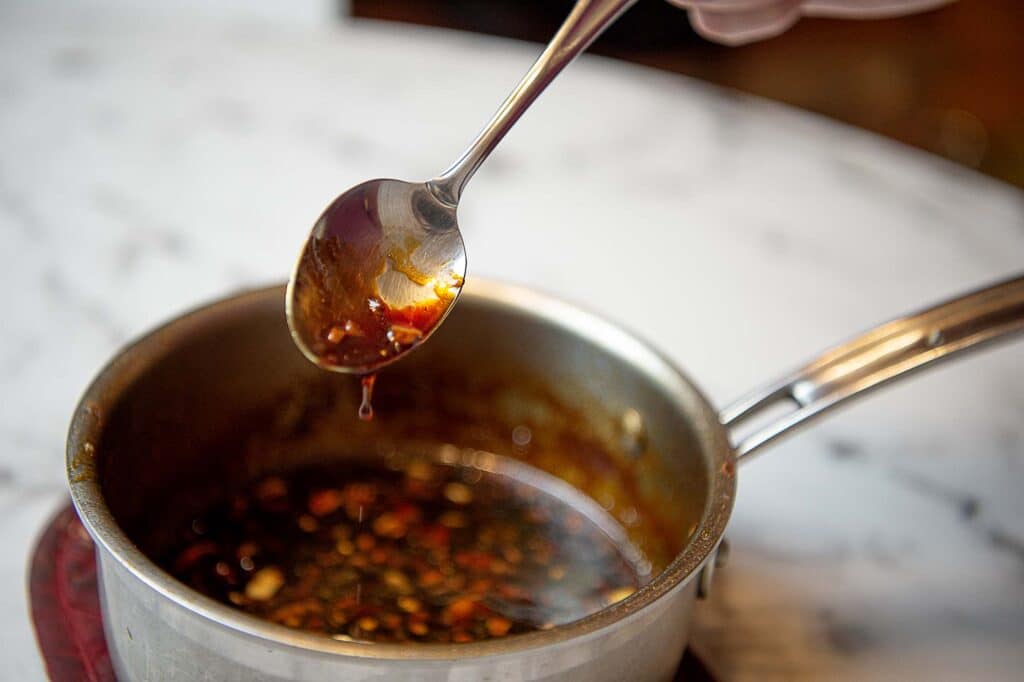 Table of Contents
If you like teriyaki sauce then you will love this savory and sweet soy glaze. Finely chopped garlic and ginger give this soy glaze a fragrant punch.
The great thing about this glaze dip is that it comes together in a few minutes and is delicious in so many different recipes. Coat this thick, sweet soy glaze on ribs, tofu, pork chops, chicken, vegetables, and more.
What is sweet soy glaze
A sweet soy glaze is a simple, thick sticky sauce with a base of brown sugar and soy sauce. This soy reduction comes together in about 10 minutes, allowing it to reduce and thicken.
This soy ginger sauce is very popular on salmon, fried chicken, fried tofu, and ribs. You will be surprised at how easy it is to make. This is a great sauce to have on hand when you're not sure what to make for dinner.
Teriyaki vs soy sauce
What is the difference between teriyaki and soy sauce? The difference between teriyaki and soy sauce is that soy sauce is the base of teriyaki sauce but it also contains other ingredients.
Soy sauce is a salty, umami-laden sauce consisting of fermented soybean paste, water, and salt. Teriyaki sauce uses soy sauce as a base and also includes garlic, ginger, and brown sugar.
How to make sweet soy glaze
All you need to make this easy sweet soy glaze recipe is your stove and a small pot. The first step is to finely chop garlic and ginger. Add sesame oil to a pot over medium high heat and add your garlic and ginger.
Next, add in all your other ingredients- soy sauce, rice vinegar, brown sugar, and oyster sauce. Once it's boiling, reduce the heat and let it simmer.
This glaze is a reduction, meaning you want to cook down the ingredients until it has reduced by half. We recommend that you stop heating the glaze when it is slightly thinner than you want it.
Glazes thicken as they cool, so remove from heat and allow to thicken to your liking.
You can store this garlic soy sauce glaze in an airtight container in the refrigerator for several days.
How to thicken soy sauce
Thickening soy sauce improves consistency and texture and is delicious in many dishes. There are several different ways to thicken soy sauce.
The most common way to thicken soy sauce is to use cornstarch to create a slurry or to make a soy sauce reduction, like in this glaze recipe.
If you want to thicken soy sauce using cornstarch, combine equal parts water and cornstarch. Once your ginger soy glaze is simmering, pour in slurry and gently stir. Other starches like flour or arrowroot work too.
If you don't want to add starch to your soy sauce, you can add some brown sugar. Allow your soy sauce to simmer with some brown sugar and it will slowly thicken up.
Sweet dark soy sauce substitute
If you don't have dark soy sauce, you can substitute it with a mixture of regular soy sauce and molasses or brown sugar.
Can glazes be sweet or savory
Glazes can be sweet, savory or spicy depending upon what you would like and what you are putting it on. This ginger glaze recipe is sweet and salty.
Is soy sauce the same as teriyaki sauce
No, soy sauce is not the same as teriyaki sauce. Teriyaki sauce has soy sauce in it as its base in addition to sugar and ginger. It is also a sweet sauce whereas soy sauce is a salty, umami-rich sauce.
Sweet Soy Glaze
This Asian-inspired sweet soy glaze recipe is tangy, sweet, savory and perfect for wings, pork, seafood, chicken, fried tofu and more.
Ingredients
3

tb

sesame oil

3

garlic cloves, finely minced

2

tb

fresh ginger, finely minced

½

cup

soy sauce

¼

cup

brown sugar

3

tb

rice vinegar

2

tb

oyster sauce
Recipe Instructions
In a small pot, heat sesame over medium heat. Add garlic and ginger and cook until slightly brown and fragrant, about 1 minute.

Add the remaining ingredients and stir to combine. Bring to a boil and reduce the heat slightly. Allow to simmer for 8 – 10 minutes and the mixture has reduced. It should coat the back of a spoon.

Remove from the heat and allow to cool. Upon cooling the glaze with thicken more.
Nutrition
Calories:
85
kcal
Carbohydrates:
8
g
Protein:
2
g
Fat:
5
g
Saturated Fat:
1
g
Polyunsaturated Fat:
2
g
Monounsaturated Fat:
2
g
Sodium:
935
mg
Potassium:
42
mg
Fiber:
0.1
g
Sugar:
7
g
Vitamin C:
0.01
mg
Calcium:
10
mg
Iron:
0.4
mg
Share on Facebook
Share by Text
Tried this recipe?
Mention @thembitesrecipes or tag #thembites